History

TBN BEGAN WITH A DREAM, A VISION TO BUILD A CHRISTIAN TELEVISION NETWORK THAT WOULD REACH EVERY CONTINENT IN THE WORLD!
---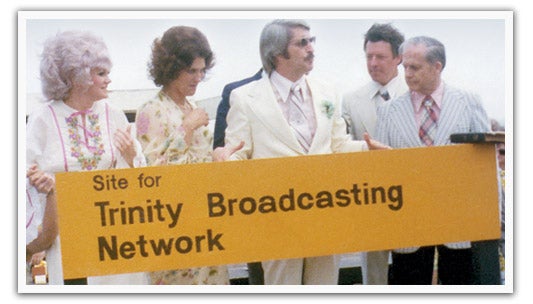 THE MIRACULOUS TBN STORY!  It's all about availability, faith, and partnership! Over forty years ago Paul and Jan Crouch joined a small core of dedicated friends and partners to step out by faith into a God-birthed dream — to use television to take the life-changing message of Jesus Christ to every corner of the earth. The start of that dream was small, with just one low-power station broadcasting a snowy picture and some homemade Christian programming a few hours a day throughout Southern California.  But God breathed life into those humble beginnings. People from all walks of life and circumstances started tuning in. Lives were changed, the word spread, and before long folks across America and beyond were asking for this miracle of Christian television. Within just a few years the Trinity Broadcasting Network was expanding — first across America, and then to cities and nations throughout the earth, where millions experienced the message of Jesus Christ for the first time through innovative and compelling Christian programming. 
Today the Trinity Broadcasting Family of Networks is the world's largest religious broadcaster, with 30 (and growing) global networks airing a broad range of church and ministry programming, Christian music, family friendly movies, children's programming, and shows for teens and young adults to every inhabited continent via 85 satellite channels and 20,000 television and cable affiliates.  Among TBN's most popular channels are its Trinity Broadcasting Network, the flagship channel, and the world's most-watched and requested faith channel; the Hillsong Channel, where viewers can become empowered by the powerful teaching and inspired Hillsong Worship; Smile of a Child TV, a fun and friendly network for kids of all ages; the JUCETV channel, featuring round-the-clock cutting-edge music, extreme sports, comedy, relevant talk, and more for teens and young adults; Enlace, the world's premier Spanish-language Christian network; and TBN SALSA, our network channel for English speaking, American Hispanics that caters to their culture. 
Internationally, TBN reaches hundreds of millions of viewers 24 hours a day in their own languages via networks throughout Latin America, Africa, Europe, the Baltics, and Asia. This includes two exclusive channels, Al Horreya and Nejat TV, airing the message of the gospel to Arabic and Farsi-speaking Muslims throughout the Middle East. There's even a dedicated network in Israel broadcasting life-changing programming 24-7 to the millions of Russian Jews who have returned to their homeland.  And through TBN's state-of-the-art studios in key locations, like Orange County, Dallas, Chicago, Nashville, London, Madrid, and Jerusalem, TBN is producing cutting-edge Christian programming for people groups throughout the earth.
From the very beginning, TBN has embraced new broadcast and electronic technologies that extend its reach to more people with the hope of the gospel. In the 1970s, TBN was one of the first networks to use satellite to broadcast its programming globally. TBN was an early leader in using the Internet to share its shows online. Today millions of viewers around the world watch TBN and its family of networks on smart phones, tablets, and laptops.  Over  41,000 programs can be streamed On Demand on line, providing hours of faith-and-family content through TBN's exclusive iTBN online network.  
Recognizing the great need for God's love to reach men and women in prison, several years ago TBN founder Paul Crouch, launched TBN Second Chance, a compassionate outreach providing TBN's top Christian networks for free to over 750 prisons in thirty states — impacting a potential of nearly one millions inmates.  And, of course, there's the Holy Land Experience, TBN's unique Orlando, Florida vacation park and worship destination that brings tens of thousands of visitors every year face-to-face with the sights, sounds, of the Bible in a unique and interactive way creating a spectacular experience while impacting the truths of God's Word. With its compelling historical Biblical exhibits, realistic re-creations of ancient Israel, and award-winning theatrical productions, Holy Land Experience has become a must-see attraction for individuals, families, and groups from across America and around the world.  
Yes, TBN has come a long way from its humble beginnings on May 28, 1973, when Paul and Jan Crouch gathered with their small team in a little make-shift studio, dedicating their dream and mission to God before going on the air for the first time.  Asked shortly before his passing about the secret behind TBN's phenomenal fruitfulness and success, Paul Crouch reflected: "There were certainly people with far more ability and resources that God could have used to take the message of Jesus to the nations through television. But with all of our lack and limits, we had three essential qualities that made all the difference: We were available, we had faith to believe God for the impossible, and we had a core of partners who shared our vision and stood with us. And it is those qualities that will continue to keep TBN on task, taking hope and healing to the nations, until Jesus returns."