Sacred Slow by Alicia Britt Chole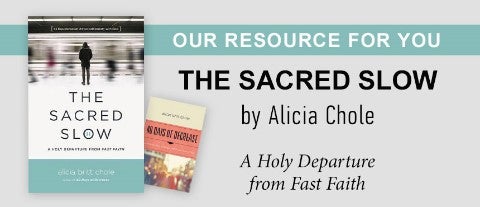 Depart from 'fast' faith and enter into God's rest...
Many people have become dissatisfied with our fast-paced culture, increasingly shifting away from quick fixes and looking for deep, soul-fulfilling life change. Alicia Chole's new book, The Sacred Slow: A Holy Departure from Fast Faith, shows how to disconnect from the chaos of the world and enter into the benefits of slowing down to listen and rest in God. You will learn:
The dangers of a hurried faith life
How to transition to sustainable intimacy with God
52 experiences in intimacy with God
And much more!
For your gift of $40 or more:  We want to bless you with your very own copy of The Sacred Slow along with a copy of the bonus book, 40 Days of Decrease, to help you receive the good things God has in store for you.
When you support TBN, you are sending the Gospel to people who are in need of salvation. Please use the form to submit your donation. Your copy of The Sacred Slow will be sent to you with our appreciation.
Donate now!
Donation Details
By selecting Monthly you will be charged the specified amount today and starting next month on the of each month.
Pay with
Credit / Debit Card
Bank Account
Paypal
Edit