INTERNATIONAL NETWORKS
Tell Everyone.
"Give praise to the LORD, proclaim his name; make known among the nations what he has done."  1 CHRONICLES 16:8, NIV

Al Horreya TV  Broadcasting God's Clarion Call to the Arabic World
TBN Nejat  Reaching 70% of households in Iran, broadcasting in their native language
Kanal Hayat  Broadcasting to a potential audience of nearly 100 million Turkish viewers in the Middle East
TBN in Africa  Providing viewers across the continent round the-clock television that is changing lives, with over half of the programming produced by African ministries
Bulgaria  Saturating Europe, Scandinavia, Iceland, Ukraine, Turkey, portions of North Africa, Israel, Egypt, the western part of Saudi Arabia, and even a majority of Russia
Fiji Mai TV  Covering much of Fiji, a vast and independent South Seas archipelago nation consisting of over 330 islands
Iceland Omega TV  Reaching all of Iceland's 327,000 residents and viewers in Scandinavia and northern Europe
Albania  On the air 24/7, reaching much of Albania and Kosovo for Christ
TBN UK  Providing over 65 million across the United Kingdom access to Christian TV
TBN Francophone  Working to spread the Gospel to all French-speaking countries worldwide
Life TV  Reaching a potential audience of 120 million people in the Baltic States, Russia, the Caucasian nations, Kazakhstan, Asia, Israel, North Africa, and beyond 
TBN Asia  Broadcasting powerful, culturally relevant, inspirational, and impacting content that is bringing individuals and families to faith in Christ
JCTV Pakistan  Taking the gospel message throughout Pakistan and beyond
God's "Big Love" in Asia
Bringing life-changing television to Beijing and beyond.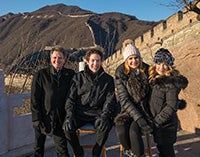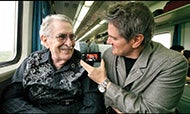 A little over a year ago, Matt and Laurie Crouch, along with popular TBN partners Joel and Victoria Osteen, made a historic trip into mainland China to meet with government officials about providing TBN programming in parts of the nation of 1.5 billion people. 
In the thirty years since TBN's Paul and Jan Crouch first reached out in friendship to China, efforts to broadcast the Gospel of Grace in that great country have continued—first with Paul and Jan, and now with Matt and Laurie traveling regularly to Beijing to meet with officials and offer TBN programming to the state-run China Central Television (CCTV).
"That investment in relationship is now bearing fruit," said Matt.
In the past the only way to get Christian programming into mainland China was by sneaking it past government censors via satellite. Matt said that through their high-level meetings with CCTV, TBN will now be able to take high-interest content like VeggieTales "through the front door" to the people of China.
"This is a new day and a new story for TBN and for China." said Matt.
TBN Nejat
Today in Iran, there are no churches for Iranians to attend. That's why Reza Safa, founder of TBN Nejat TV, is so committed to broadcasting God's Word into the homes of the millions of Iranian Believers who consider TBN Nejat TV their church.
"They gather around their television sets and listen intently to our teachings out of God's Word," explains Reza. "Praise be to God that He has given us the means of delivering His Word—and many are coming to Christ."
TBN Nejat TV reaches 70% of households in Iran broadcasting in their native Farsi-language. Nejat received hundreds of testimonies of people delivered from drug addiction and healed in their bodies as they touched the TV, salvations (including entire families coming to the Lord), and miraculous visitations from Jesus.
Over 40 percent of Iranians have smart phones, so we've worked heavily on the TBN Nejat TV iPhone and Android apps, which will soon be released in Iran. Find out more about TBN Nejat TV and watch it live online at nejattv.org.