FAITH FORWARD
September is Faith Forward Month at TBN!
A Global Gospel Explosion on the World's Stage.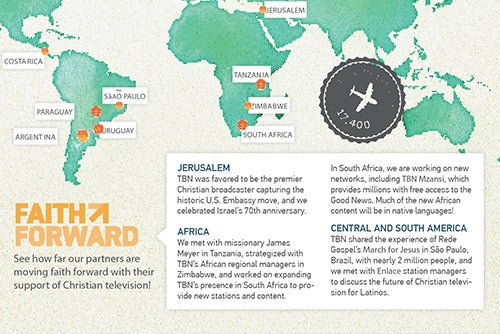 FAITH FORWARD. These two words hold massive meaning and speak to the unprecedented opportunity Jesus has laid before us all as Believers.  In order to carry out His Great Commission, everything we do at TBN is to answer the question, how can we carry our faith forward to more people, more effectively? This was our mindset as we prepared for our most recent ministry trip, and it was truly amazing.
Testing New Methods for Sustaining Missions
Our team was in high spirits as we made our first stop in Tanzania. There we met with James Meyer, a revolutionary missionary who believes missions work can be self-sustained through farming, rather than relying on traditional fundraising methods. It was intense as it took a nearly 4-hour drive on flooded roads just to get to him, but once we did reach him, we captured film of the farm and learned of his varying techniques. He's currently assessing goat farming. Though there have been many adjustments from his original plan, we see the long-term potential of his revolutionary ideas. We'll continue to substantially support the program and James' belief that modern techniques and employing local people to farm could be a sustainable model to support missions for decades.
The Gospel Continues to Spread in Africa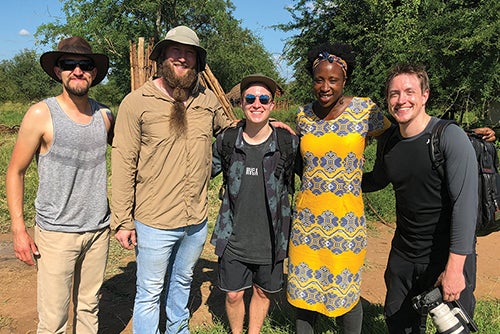 Our next stop was Zimbabwe, where we had the opportunity to strategize with our African regional managers. In our meetings, we discussed how TBN in Africa has become the premier network.  As we left Zimbabwe for South Africa, our entire team could sense the building momentum. We were truly excited to look at potential new properties for TBN Mzansi. As the counterpart and sister network to TBN in Africa, Mzansi helps reach lower-income Africans and rides on a new distribution platform reaching 46 of 54 African nations, giving nearly 1 billion African viewers access to the Gospel over the air for free.
We're thankful because powerful connections are being made between Christian entities, which gives us exponential potential for greater impact.

Currently Mzansi is outgrowing its facilities and is in the process of a major facility upgrade. This major network is just the first of three. It will eventually be followed by a Nigerian network that will focus on West Africa and another in either Johannesburg or Uganda, focusing on East African languages.  The timing of these pending advances couldn't be better. With a new hope for the future, we see major things coming out of Africa. And you are the reason it's happening.  
2 Million Christians March for Jesus in Brazil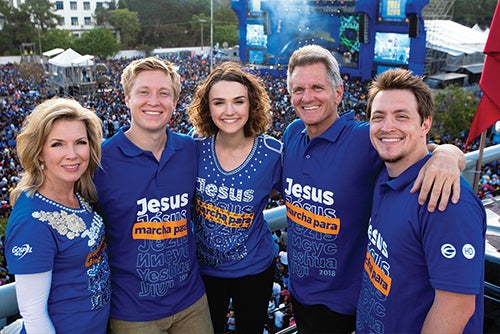 We left Africa ecstatic about the new developments, but we were not prepared for what happened next in Brazil. We had heard about Rede Gospel's March for Jesus. Yet nothing could prepare us for being involved in a march where close to 2 million Christians took to the streets to glorify Jesus. The 12-hour event took place in São Paulo and combined praise and worship, uplifting ministry, and fellowship with other Believers, all culminating in one big celebration to the Lord. Seeing such a huge mass of people worshipping God in unison gave us an image of what the children of Israel looked like marching out of Egypt.
We were excited to document such an awesome event and to connect with such an excellent Christian organization like Rede Gospel—TBN's network affiliate in Brazil. We're thankful because powerful connections are being made between Christian entities, which gives us exponential potential for greater impact. The world is beginning to see millions of Christians willing to stand up for Jesus. And TBN will be there to capture and tell the story.
Going Deeper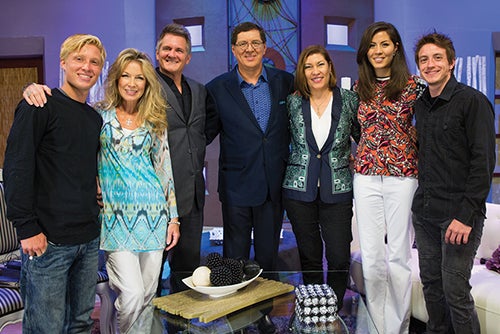 We didn't stop there. We finished off our trip by visiting Argentina, Paraguay, Uruguay, and Costa Rica. We had the opportunity to meet with our Enlace station managers, in particular Melissa Gonzalez who is embracing forward-thinking methods for the future of Christian programming across Latin America. Partners like you are the reason TBN has been able to penetrate into the countries we reach. The future is bright as we plan on continuing deeper into these regions, which means better distribution in these countries, more local programming, better presence, and more contacts. This, in turn, means more people will be able to receive God's amazing grace through Christian television.
We realize that in order to make an indelible mark on this planet for Christ, we must work in unison with faithful partners like you. Ultimately, we can't "faith forward" without you.
In fact, your role as an agent of God's grace in the earth can't be overstated. This is a viewer-supported venture that simply won't work without you. Your support makes us better and keeps the Gospel on air 24 hours a day, 7 days a week, free of telethons all around the world.  Laurie and I are so very encouraged by your friendship. We know there are no limits to what God can do, and we are excited to see what the future holds as we take our faith forward and make a mark for Christ!