2ND CHANCE
How Faith-Based TBN is Bringing Hope to Inmates.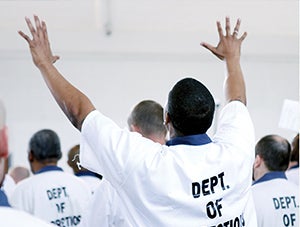 Inmates gather with TBN's 2nd Chance prison ministry team for a time of worship and ministry.
Everyone needs a second chance. A fresh start, a do-over. All of us fall short and miss the mark. That's why the Gospel is literally "Good News"; we find hope, grace, and a brand-new life in Jesus Christ. If we look with fresh eyes at what Jesus did and said while He was here, everywhere He went, He gave second chances to the sick, the sinners, the oppressed, and the outcasts.
He does the same thing for us today. The Message paraphrase describes the kind of ministry Jesus modeled and asks us to imitate:
 "... when did we ever see you sick or in prison and come to you?' Then the King will say, 'I'm telling the solemn truth: Whenever you did one of these things to someone overlooked or ignored, that was me—you did it to me"  (Matthew 25:39–40).
As a TBN Partner, you are visiting the "overlooked or ignored." You've been visiting hurting people in prison. In fact, you've ministered to more than a million inmates, in more than 1,200 prisons, in 42 states.  You've done that through TBN's 2nd Chance initiative— an outreach which started in 2007 that provides life-changing ministry programming to more than 1,200 prisons 24-hours-a-day, every day of the year.
Together, we're Jesus' hands and feet in offering the ultimate "second chance"—forgiveness, restoration, and eternal life in Jesus—to men and women who desperately need one. You're giving hope to those who may have lost all hope. Mark Reynolds, national director of the 2nd Chance ministry, explains, "you never know how one word, one program, one message of the Gospel, can change a life forever."
As Mark further explains, "Most of the inmates we minister to will likely be released at some point, back in our communities. Their best second chance comes through redemption through Jesus Christ. It's amazing to see grown men in tears as their lives are changed and they say, 'Thank you.'" 
Through TBN, prisoners can also watch JUCE, Hillsong Channel, and Spanish-language Enlace. This allows a diverse population to find the programming that speaks best to them. We all love the Jesus-honoring, Spirit-empowered programming that we enjoy on TBN, but can it shine the light for those who are incarcerated? Absolutely! Lives are being changed; the lost are being reached; Believers are being equipped. Here are a few examples:
| | |
| --- | --- |
| | |
| CJ Orndorff shares encouragement. | Gene McGuire, former inmate who is now a chaplain. |
"[This prison] currently has a limited number of Christian services due to a lack of volunteers willing to come in. TBN has become my number one source for Christian teaching and inspiration besides the Bible itself." —Oregon inmate serving 20 years
"We can never thank you enough for sharing the Holy Word of God with us. ... Truly the Light of God has shined into this dark prison and the Light has won!" —Indiana inmate
Gene McGuire was in prison for 34 years for a crime he did not commit. He is free now, by the grace of God, and says that the Christian programming provided by TBN is "absolutely necessary in the prison system to evangelize people who would not go to church or be drawn to Christ." 
Gene depended on programming from T.D. Jakes, Beth Moore, Hillsong, and many more. He is now a chaplain for a Christian, family-owned restaurant business. He wisely concludes that "any inmate that abides in the Word of God" will not go back.
TBN's 2nd Chance outreach also has a local impact in the prisons by sponsoring a ministry that brings worship, comedy skits, teaching, and one-on-one ministry to prisoners led by CJ Orndorff and Mark Reynolds. CJ shares how this ministry brings "the best gift available in this lifetime: a relationship with their Creator!" He adds that "through smiles, hugs, tears, you can see it in their eyes. It's amazing how fast they feel His presence."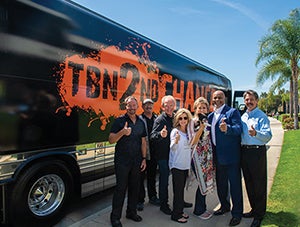 (Left to right) Keith Benline, Rick Scarcia, CJ Orndorff, Laurie Crouch, Tammy and Pastor D Robinson, and Mark Reynolds stand in front of the TBN 2nd Chance tour bus.
Alex Taylor, chaplaincy services administrator for Florida Department of Corrections, shares the immense value of this vital ministry to his work: "At a time when budgetary limitations allow for fewer programs for inmates, the availability of 24-hour 'messages of hope' is an encouragement to all who work in corrections." 
The generous support of TBN in offering programming and supporting this ministry is a statement to every inmate that there are countless numbers of good people outside of prison who care about them. 
... through your support of TBN,  prisoners discover that God loves them and wants to give them a brand-new heart and life ...
During His ministry on earth, Jesus made it a point to tell us that when we reach out to the hungry, the naked, the sick, and the imprisoned, we are actually ministering to Him. "That was me!" Jesus says. And when, through your support of TBN, prisoners discover that God loves them and wants to give them a brand-new heart and life ... that's you. You make that happen. Thank you.